Commercial personnel doors for industrial areas and high security.
Parkwood Doors make the strong and secure doors for your commercial property. Their commercial doors are constructed from aluminium, with an aluminum frame that's durable in all weather conditions.
Suitable for hygiene and high usage areas, these complete door and frame units are custom-made and fit for purpose, with vision panels and air-vents. Grills can be either iodised or powder-coated finish.
A flush powder coated aluminium door that is both durable in all weather conditions and highly secure due to its aluminium honeycomb construction – click here to choose a durable powder coat from a large range .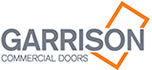 Poweder coated to a colour of your choice
Made to any size required up to 2400 x 1500 mm
Box section frame inside door — ensures sturdy construction, essential for commercial use